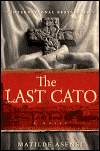 I don't ordinarily pick up religious thriller novels because they tend to be, with few exceptions, crap. Either they're poory written, or poorly plotted and/or just plain stupid and I can't make myself read them.
The Last Cato
, however, was actually rather good. Barring a few translation problems (Alexy, a Russian Orthodox patriarch, becomes Alejo after a couple of pages) and some typos, this book has fewer typographical oddities and typos than some of the books I've read lately. (I have no idea why, but there seem to be a lot more of these in the last five years than there used to be. Editors and proofreaders, please pay attention and read carefully. We all learned in school that, if you make those kind of errors after a while, it makes you look like a moron.)
I really enjoyed the plot. It delves into religious history without trying to tear down one side or another. Both sides have points for and against them and this book does not bill itself as an expose, which is a nice change from most of the religious thrillers out there. This book was written before
The Da Vinci Code
came out--so it can't be read as a knock-off of that book.
This book is really original. I've seen
Dante
used before in fiction
, but those always use the
Inferno
rather than either of the other two thirds of
The Divine Comedy
. I also really enjoyed the fact that the Knights Templar only made a brief appearance and that there were no Masons, either.
I think that the only thing that I didn't like was the short detour into science fiction that occurred near the end. The way the Staurofilakes (the "bad guys") were portrayed at the end was just a little too far out there into yeah right land. Other than that, this was a really good read.