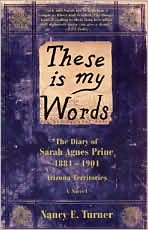 These is My Words
I love this novel.
These is My Words
is a novel written as the diary of a young woman in 1880s and 90s Arizona who, after much tragedy, finds love, and who must survive and thrive in a very harsh environment.
Sarah Prine is one of the toughest female characters I have come across. And I am constantly amazed at her ability to soldier on. But what really makes me love this book is the relationship between Sarah and Captain Elliot. It's such a beautiful love story that, when I reread this book, I am glued to the pages for however many hours it takes me to finish it and I have a really hard time putting to down.
I recently found out that Nancy Turner has written two
more
books
that feature Sarah and her family. At first, I was excited to read more about Sarah, but now, I'm wondering if I read this books, the experience of reading
These is My Words
might be ruined. In my mind,
These is My Words
is perfect just as a single book.