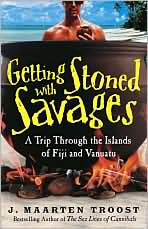 Getting Stoned with
Savages
I must have a highly developed sense of
schadenfreude
because I love travel books written by the accident prone and the naive. Which is why I've enjoyed J. Maarten Troost's books about his life in the South Pacific so much. Troost also has a gift that I've noticed with certain British writers. The man can turn a phrase and he's wonderfully sardonic.
Getting Stoned with Savages
is Troost's follow-up to his first book,
The Sex Lives of Cannibals
.
Cannibals
documented the two years he spent on
Kiribas
.
Savages
is about his life on
Vanuatu
and
Fiji
with his wife and first son. In it, he encounters some
wonderful intoxicants
, foot long centipedes, a cyclone, the aftermath of a coup on Fiji, and parenthood.
Unlike a lot of travel books, Troost shows you the non-tourist side of these islands. In fact, he tends to shun the touristy spots. Instead, he tries to find people who either were cannibals or witness cannibalism and spends a lot (
a lot
) of time drinking kava with his neighbors and becoming one with the dirt.
Troost spends some time at the beginning and end of this book reflecting on escapism and his need to escape the American way of life or, more specifically, escaping the American work life. It makes him itchy, apparently, and long to be somewhere where happiness is easier to achieve--probably because you're knocking yourself back down a few rungs on
Maslow's hierarchy of needs