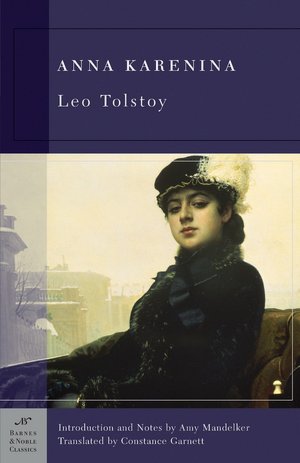 Anna Karenina
I'm reading
Anna Karenina
(
Wikipedia entry
) for two reasons. First, I have to read it for our book group. Second, I'm reading it because I've always wanted to tackle one of the big Russian classics.
So, what's it like so far? Surprisingly, almost no one is seriously depressed and there's not that much snow. Actually, the first character we meet is the wonderfully cheerful Stiva Arkadyevitch Oblonsky, Anna's brother. Granted, his wife just figured out that he was having an affair with the children's nanny and he's in serious trouble at home, but nothing seems to get this man down much for long. Then we met Konstantin Levin, who's more serious and has some of the common sense problems of many nineteenth century characters but who is still pretty level-headed. We actually don't see the famous Anna Karenina until about 50 pages or so into my edition of the book. Vronsky, the dashing "hero," shows up a bit sooner.
The way that
Anna Karenina
starts reminds me a bit of the start of
War and Peace
, which I attempted to read earlier in the year. The reader is introduced to a huge cast of characters, from all walks of life, who all have something to tell you about the way that life was in Tolstoy's Russia. The characters are all fully realized, I think. But Tolstoy does it all so skillfully that you aren't bogged down in exposition and explanations, and the pace just hums along. I am really enjoying this book.
There is a ton of detail, and the characters and their settings are all very carefully drawn. As in other wonderful nineteenth century opuses (Dickens comes to mind here), you get drawn into the story and can really visualize what's going on. It shouldn't have surprised me, but I am astounded at the level of detail, especially when Tolstoy writes about what people look like. When Kitty Shcherbatsky attends a ball, Tolstoy not only writes about the color and design of her dress, but also mentions the blonde braids she added to her coiffure to make it look like she has even more hair.
I almost feel sorry for Tolstoy's writing hand, since it had to write this sucker out long hand. I wonder if he had arthritis?
Progress: 121 pages read. 696 pages remain.