Since I've been participating in NaNoWriMo, my reading has tapered off a bit. If I weren't I would be further ahead in this series of novels about the Company, time traveling historians and preservationists, by Kage Baker. Last year, I read the first two books in the series. And I only recently found the rest of them at one of the local public libraries.
Mendoza in Hollywood
Mendoza in Hollywood
is the third book in the series. It follows--as you might guess--Mendoza, a botanist we met in the first two books. Her job is to preserve samples and genetic materials from plants before they go extinct. In this book, she's sent to preserve plant materials before the 1863 Los Angeles drought destroys them. After her mission is completed, she meets a man who is like a clone of her first love, an Englishman who died a martyr's death in the sixteenth century. Since the action takes place in and around Los Angeles, many of the Company characters talk about early Hollywood and stage screenings of films. Mendoza herself spends a lot of time reminiscing about her life and pining for her dead Englishman. The pacing of the plot in the novel really started to drive me nuts after I had reached about page 250 and the main action of the story hadn't really started. It was like reading
Dune
again; it's all backstory and then the plot happens in the last 100 pages of the book. Yeesh.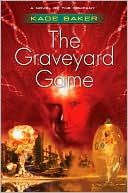 The Graveyard Book
The next book,
The Graveyard Game
, was better. More action. More plot. Things definitely happened in this one. We get to spent time with Joseph, the man who recruited Mendoza during the Spanish Inquisition. The story begins with Joseph and Lewis, another Company man who fell in love with Mendoza, trying to find out what happened from her after the events of
Mendoza in Hollywood
. As they follow her trail, they find that other Company agents are disappearing after they uncover Company secrets or start to ask awkward questions. This book is clearly setting you up for the rest of the series.
As I've read these books, I've gotten the impression that I might be reading one really long book that just happened to get published in parts. Nothing really gets resolved; you just learn more about the Company and its history. Sure, there are plot arcs in these novels, but they're small compared to the overall story.