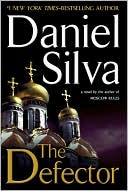 The Defector
I meant to write about this last week after I finished the book, but I got busy re-reading the Harry Potter series.
The Defector
, the ninth book to feature Gabriel Allon, picked up almost immediately after the events of
Moscow Rules
and features the same antagonist, Ivan Kharkov. Even though Kharkov was nearly ruined in the last book, he still has enough money and influence to kidnap a Russian defector (hence the title) who helped Allon bring Kharkov down. The plot revolves around a promise Allon made to Grigory Bulganov not to let him be buried in an unmarked grave. When Bulganov is kidnapped and taken back to Russia, Gabriel calls in favors and reunites with his old team from the Office--Israeli Intelligence.
The plan hums along until Gabriel's new wife is kidnapped by Kharkov. The book really takes off at this point, and I had a hard time putting it down so that I could get some sleep.
Earlier in the series, Silva wrote three books that deal with the "unfinished business of the Holocaust." These are still my favorite books. And the way that Silva starts to mine Russia's past in this book makes me wonder if another such trilogy is currently unfolding, especially when Kharkov's obsession with Stalin and Stalinism makes a reappearance. In
Moscow Rules
, Silva's plot centered around Russia's ruthless Wild West-like days after the fall of communism when former state officials and business men scrambled to get their hands on wealth and resources. This book does pick up on that thread, but adds some historical depth. As always when I read a work of fiction about Russia, I always end up feeling sorry for the poor, mixed-up country.
Since this is a thriller and much of the appeal rests on not knowing what comes next, I won't say any more about the plot. I am curious to see what comes next, though. Will Gabriel face off against Kharkov and, possibly, finish him off? Will he go back to work for the Office? Will a new enemy come out of the woodwork? Such possibilities.