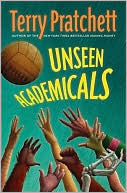 Unseen Academicals
I always look forward to book by Terry Pratchett, especially the Discworld books, because I know I'm going to have a good time. The books are not only entertaining satires in and of themselves, but I also get to try and chase down the references. In
Unseen Academicals
, not only is Pratchett lampooning soccer and soccer fans, but he also takes shots at psychoanalysis,
Romeo and Juliet
, and fashion. It's kind of a messy book, because these lesser targets sometimes steal the stage.
The book starts when the wizards of Unseen University (
nunc id vides, nunc non vides
*) find out that their funding is in trouble if they don't field a soccer team. One of their bequests had that annoying clause stuck into it. But by this time, soccer has devolved into a street fighting matches between nearly tribal groups in the city. Fans of one team don't mix with the other. And this is where the sadly underused allusion to
Romeo and Juliet
comes in, when a Dimwell fan falls in love with a Dolly Sisters fan (and vice versa). Parts of the book has the characters trying to come up with rules that mean that they don't have to worry about keeping their teeth or, possibly, death, on the field. This was so well done that I'm closer to understanding the
off-side rule
than I've ever been. Now if only Pratchett would go after cricket.
The psychology comes into play with another character, an over-educated orc from the hinterlands who has the uncomfortable ability to instantly psychoanalyse people or speculate on the philosophical dimensions of soccer. (The best part of this plot, I think, is when he is forced to analyse himself, complete with Dr. Ruth accent.) I speak some German, but unfortunately not enough to understand the jokes that I know are embedded in the names of the books Nutt cites. The English ones, like
The Doors of Deception
, is good enough it itself. The fashion satire really just seems tacked on to the whole. It's a little distracting, even though it turned out to be necessary.
Other reviews of this book have pointed out that Pratchett also goes after racism. He does, but he's gone after that in all the rest of his recent books. Some reviewers have seen it as an interruption, but I thought it was incidental. Anytime you get a new "race" in Ankh-Morpork, there's some stereotyping, but people get over it. And the population has been getting over it so much in their recent history that's not such a big deal anymore. One of Pratchett's other books,
Thud!
, is much more about racism than this one. I read the reviews before I read the book, but as I read, I just didn't see what the critics are making such a fuss about. I just wish that Pratchett had played around more with the
Romeo and Juliet
motif.
Still, I really enjoyed this books. Everyone is precious, given the author's condition. It will be an unutterably sad day when Pratchett retires his pen (or keyboard or whatever).
* Now you see it, now you don't.