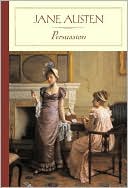 Persuasion
After what I've been reading lately, reading something like Jane Austen's
Persuasion
is a bit of a surprise. All I can say is, yeah, you're right.
I've not read
Persuasion
before. I've always stuck pretty firmly to the trifecta of
Pride and Prejudice
,
Sense and Sensibility
, and
Emma
.
Persuasion
was written just a year or so before Austen died. It's not as complex as her earlier books. As the back of the book states, "Austen seem[s] to paint on a small canvas." That's a diplomatic statement, I fear. While
Pride and Prejudice
and
Sense and Sensibility
have multiple plot lines and entire boatloads of characters,
Persuasion
is told from the perspective of Anne Elliot, an unloved middle daughter of a vain and pretentious country baronet. When she was nineteen, Anne fell in love with a sailor and he with her. Unfortunately, Anne was persuaded not to marry him by her mother's best friend. Eight years passed and Anne always regretted it. Then, like a cliche stolen from Dickens, Anne's lost love reappears. Eventually, they reconcile--because it's an Austen novel and they must end in weddings.
I'm being polite, because this book was written by Austen, and who am I to lob barbs at
Austen
, for crying out loud? But I have to say, as I read, that I though Anne Elliot was a
Mary Sue
. I know that
Austen
died a spinster. I don't know much if Austen had a lost love, but I know there's been speculation. I'm not the only one to think so. In her biography of Austen, Claire Tomalin wrote:
In one light it can be seen as a present to herself...to all women who had lost their chance in life and would never enjoy a second spring. (256*)
Anne was on the very cusp of spinsterhood before she was "rescued" by her Captain Wentworth, who managed to survive the Napoleonic wars after making a fortune capturing ships. All through the book, Wentworth and Anne barely speak to each other. I knew they had to reconcile. I was waiting for it for 220-odd pages. And then, suddenly, Wentworth writes her a letter that tells her that he never stopped loving her and that his offer of marriage still stands. There's some very minor wrapping up of outstanding plot lines and then...that's it. The book's over.
On top of this, nothing much happens in the book, plot-wise. Anne visits her younger sister, visits
Lyme
, goes to live in Bath with her father and older sister. Attachments are formed and broken. Jealousies are conceived and resolved. Anne's cousin has a vague plot to marry her and secure his place as heir to the baronetcy and the estate, but that never gets off the ground because Anne suspects him of being up to something from the first. There's none of the passion or any of the plot turns like there were in Austen's earlier novels.
Persuasion
is a very mellow book. I didn't dislike it, but it's not one of my favorite books. There's little of Austen's usual wit to liven things up. I did chuckle at a few lines in the book, aimed at Anne's vain and prideful father--an easy target. I'd recommend it to someone who wanted to read a gentle romance.
* Tomalin, Claire.
Jane Austen: A Life
. New York: Alfred A. Knopf, 1998.