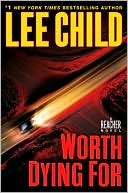 Worth Dying For
Worth Dying For
is the second Jack Reacher novel this year. The first one ended on a cliffhanger (though we knew he would be alright because there's this book). I'm not sure what I was expecting in this book, but in the first pages, we find our hero getting pulled into yet another mystery. He doesn't even get time to recuperate from the injuries he received in the previous book. There are some familiar elements in this book: the deadline, the mysterious truck that's at the heart of everything, and the evil local guys who have the whole town under their thumbs.
The best thing about this book is the brilliant use of misunderstanding among all the bad guys. It's almost farcical the way they behave. Before I get into that, let me back up and talk about the mysterious truck. Throughout the book, we get progress updates about the truck, but are never told what's in it. The local bag guys, the Duncans, have promised the contents to some very bad men in Las Vegas. When the shipment is delayed, they blame Reacher. The Las Vegas guys (and their bosses and their bosses' bosses) send men to Nebraska to take care of Reacher. But since they also have orders to eliminate each other, things rapidly devolve into a bloody and hilarious (if you have a sick sense of humor like I do) debacle.
As Reacher methodically takes out all the henchman (an extraordinary number in this book), he also has a side project. Taking pity on the non-evil locals, Reacher starts to investigate the disappearance of a little girl twenty-five years prior to the start of the novel. Everyone is sure that the Duncans had something to do with it, but no one can prove it. Readers who pay attention to the foreshadowing and hint-dropping should be able to figure it out, too.
This secondary plot helps bulk up the book as a whole and gives it a bit of humanity, too. I say that because this is an extremely violent book. All the Reacher books are violent, but there's a level of cruelty here that surprised me. Reacher always had a reason for doing what he does, and it's fun to watch him crack skulls now and again. While he has his reasons here, I feel like Reacher is going to a new and disturbing level of violence. It seems like he's so tired of fighting people that he just wants to end fights so definitively that people will leave him the hell alone. One the one hand, I can (kind of) sympathize with that point of view. But on the other hand, I have to wonder if Reacher needs some therapy or at least a hug.
While this is not the best entry in the series, I sense that this book is a kind of turning point for Reacher. I wonder if he's starting to realize that his lifestyle (traveling around the country as a reluctant knight-errant) isn't working anymore. I'm very curious to see what future books have in store for him.