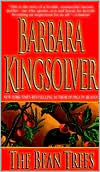 The Bean Trees
The Bean Trees
is the book that introduced me to one of my favorite authors, Barbara Kingsolver. I first read it in an honors English class in high school and just fell in love with the main character, Taylor Greer, and it was just so beautifully written that I keep coming back to it every now and then. Unlike some of her later work, Kingsolver uses spare language, using only the words she needs to get her point across and no more. (This is not to say that the others are wordy, just more stylish.)
We meet Taylor in Kentucky, where she lives with her single mother in a small town where the local pastime is to make babies. As soon as she can, Taylor gets a car and heads west. She doesn't really have a destination; she lets fate decide for her. In Oklahoma, outside of the Cherokee Nation, a Indian woman begs Taylor to take a small child with her. When Taylor learns what girl went through, she decides to take care of her. Dubbed Turtle because she latches on to things and won't let go, like the mud turtles in Kentucky, the girl forces Taylor to realize that motherhood--no matter how unorthodox--is not the end of the world.
The Bean Trees
is not all about motherhood. Along the way, a family kind of grows up around Taylor. After her tires give way on the outskirts of Tucson, she settles down, becomes a roommate with a neurotic single mother, finds a job, and becomes friends with old ladies and Guatemalan refugees.
That pretty much sums up the plot of the book. But what makes it special is the way that it's told. The characters are real; you can really imagine meeting these people in real life. They talk like real people. They worry like real people. And the book is peppered with silly, humorous situations and dialog that make it all seem so homey. It takes a skilled writer to create a book like this, sweet and profound all at the same time. (Can you tell that I really dig this book yet?) I highly recommend both
The Bean Trees
and its sequel,
Pigs in Heaven
.
On a side note,
The Bean Trees
was also the book that made me aware of censorship. While I'd heard of banned books before, I hadn't actually been involved in a book controversy before. Some students (and their parents) were upset about the references to child abuse in the book and didn't want to read it. After the parents' challenge got turned down, I believe they were given the option of reading something else. I remember that, at the time, I was surprised that people would get so upset by something that happens "off stage" that they didn't want to read the rest of the book. Those of us who finished the book found it to be a wonderful book about family and redemption.