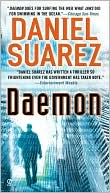 Daemon
Every now and then, I compliment a writer by saying they write in a cinematic way. They can make the characters and the action so real that, in a reader's mind, the action plays out like a movie. Daniel Suarez's
Daemon
is the most cinematic book I've ever encountered. Descriptive without being overwritten,
Daemon
is full of explosions, double crosses, antagonists and protagonists with murky motivations, more explosions, chases, and incredible fight scenes. I am so looking forward to the sequel.
Daemon
is the story of men against technology. Imagine an antagonist that can never be reasoned with, that out thinks you at every turn, that has unknowable goals, and that has access to nearly infinite resources. That's what our heroes are up against in this book. After the death of an eccentric video game designing billionaire, a series of deadly events is triggered. The only link is that technology--specifically the Internet--played a part. The detectives (and later the FBI) can't find a human perpetrator. The person everything starts to trace back to has been dead for days before the first murders. At this point, I started to wonder if the plot was going to be something like the one in Jeffrey Deaver's
Blue Nowhere
, where a computer-aided murderer goes on a rampage. But it soon became clear that the Daemon's (the name of the billionaire's software) plan was much, much bigger than that.
Suarez starts to bring in other characters. In addition to Detective Sergeant Sebeck, who's investigating the murders, we met the black hat hacker Gragg and white hat hacker Jon Ross, Dr. Phillips from the NSA, the former prisoner turned assassin Charles, the Major (who works for some unidentified alphabet organization), and a would-be investigative journalist who gets all her tips from the Daemon. The book switches back and forth between all these perspectives. On the one hand, the baddies seem to have their act together. Following computer issued orders, they forward the Daemon's plan--whatever it is. And then on the other hand, the good guys are so disjointed (and occasionally thwarted by people who are supposed to be on their side) that defeating the Daemon seems well nigh impossible.
And then there's the Daemon itself. As its capabilities reveal themselves, you can't help but admire the mind that created it (and the author that thought up the idea in the first place). That bit of script thinks of
everything
. And because it was designed by an
ueber
-gamer, it's got a kind of sadistic creativity when it comes to taking on the good guys. The bloody battles that punctuate the book read almost like boss fights in games, but there are no do-overs or respawning.
The ending of
Daemon
is a clear set up for the next book,
Freedom
. While some plot threads are wrapped up and you do get some of the satisfaction that comes with finishing a book, the very last chapter reads like a prologue for the next book. Having it read it, I just have to read the next one, if only to see what fresh hells the Daemon cooks up for our heroes.