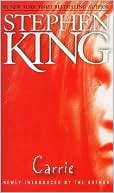 Carrie
Just as I like to read irreligious books at Easter, I like to try and read a genuinely scary book for Halloween. My own small Halloween celebration this year was to reread
Carrie
, by Stephen King. I forget how long ago it was that I first read it and, since I've never seen a film version, I'd forgotten enough of the plot to get really involved in the book again.
Compared to later King novels I've read (and I'll be the first to admit that I'm selective about which King books I read),
Carrie
has a lot of raw emotional power and is more skillfully constructed than a lot of those later books.
Carrie
is told in two strands, for lack of a better word. In one, you follow the major characters in the days leading up to the infamous prom. In the other, you get excepts of news dispatches, scholarly books, congressional testimonies, and letters. This second thread lets you know in advance that something terrible is going to happen, though they withhold the details. It gives the whole book an atmosphere of inevitable catastrophe, making it a great tragedy in the full literary sense of the word.
Even without Carrie's latent talents, this would have been a gut-wrenching book. Carrie, modeled on two girls the author knew while growing up (according to the author's foreword in the paperback edition I read), was one of those kids who everyone picks on. She's just different enough and friendless enough that everyone picks on her. Contributing to Carrie's delicate psychological state is her hyper-religious mother. I've long thought that too much religion will warp the psyche, and Carrie and her mother bear our my theory. (I would say they bear it out nicely, but there's nothing
nice
about this family.) Carrie's mother, Margaret, is so extreme in her beliefs that even churches with a fundamentalist bent are too liberal for her. Instead, she hold her own services. Because she kept her daughter at home except for school, Carrie has been subject to her mother's twisted ideas and violent will since she was a child. Carrie is abused at school and at home, and has no friends or hobbies that can help take her away from that.
...Until the day that a spectacularly cruel stunt at school triggers something paranormal in Carrie. Throughout the book, the secondary sources quoted refer to it as TK--telekinesis. This fluke of genetics gives Carrie what she needs to exact revenge on her mother and classmates. The only kindness Carrie experiences is when a classmate tries to ameliorate her guilt at participating in hazing Carrie talks her boyfriend into taking the unfortunate to the Spring Ball. This boyfriend, Tommy, is a very good boy and does help Carrie have an enjoyable time--until some other students decide to pull one last prank on her.
When I read this book before, I remember disliking Carrie at the end of the book. It was so long ago that I'm not sure why I disliked her. This time, I saw Carrie as a wounded animal, like an abused dog that keeps trying to please its masters but gets beaten down so much that it turns mean. At the end, all she wanted was to hurt the people who had hurt her and could not be reasoned with. While some people were just caught in the wrong place at the wrong time, I could still sympathize (a bit) with Carrie. As I said before,
Carrie
strikes me as a genuine tragedy. Carrie was a flawed human being who managed to turn the tables on her antagonists for a while, then died a death full of pathos.