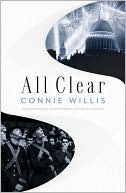 All Clear
All Clear
is not a sequel. It's actually the second half of Connie Willis's
Blackout
. (Together, they've been nominated for the 2011 Nebula Award.) You really must read
Blackout
first, because
All Clear
starts with the very next chapter. Both books are utterly absorbing. If you're a fan of World War II novels or time travel novels, I highly recommend this. If you're a fan of both, like I am, these books are perfection.
Blackout
and
All Clear
are linked to two earlier novels (
Doomsday Book
and
To Say Nothing of the Dog
). All are set in a future England where time travel exists and is used by historians to travel back to observe the "contemps" (contemporaries). The only historical events these historians can't visit are divergence points, decisive moments in history like the evacuation from Dunkirk or the Lincoln assassination. Otherwise, the historians suit up to visit everything from the Black Death to the attack on the World Trade Center. Unlike other time travel novels that have come out lately, Willis doesn't make use to the multiverse phenomenon in any of her books. Remarkably, all this time travel happens in a single time line. This made my head ache a little when things sped up towards the end of
All Clear
, but it's makes of a jaw-droppingly audacious story.
Blackout
introduced us to a trio of historians who get stranded during
the Blitz
in the fall of 1940. Michael is there to observe heroes at Dunkirk. Merope visits a manor to gather information on the evacuations of London children to the English countryside. Polly takes a job as a shop girl to experience life as a Londoner during the first months of the Blitz. Mysteriously (and terrifyingly to the travelers) their drop sites close. After joining forces, the three try to locate other historians who might have made it back to the early months of the war and locate alternate routes home. They are thwarted at every turn. Willis does a fantastic job of making all her characters distinct and very believable.
As I read their story, I felt some of the same panic and fear that real Londoners might have felt as Hitler's Luftwaffe did its worst to their city. I say some. I know full well nothing can ever compare. Still, I turned those pages breathlessly (not an exaggeration) until the all clear sounded and the raids were over. I read this book in four big gulps, reading 150 and 200 page bites. I just
could not put it down
. Willis hews so closely to actual history that it was very possible for the characters to die in the past. I was even more worried about the contemporary characters that the historians befriend; they could have died at any moment from an unexploded bomb or during a raid.
When I finished the book, I had to marvel at the bravery of the English. Intellectually, I knew that they stood alone against Germany for a long time before the Americans entered the war and even longer before the Allies turned the tide. But I never really thought about what it would have taken to do that. This book opens with the most beautiful dedication to all the "ordinary" citizens who won the war. Without them, the world would be a very different place. In spite of their travails, I though the historians were very lucky to have stood beside them. According to one interview I read, these citizens were part of the inspiration for these books. Willis does a remarkable job of taking her readers back to those dark, dark days. I marveled as I read at how they carried on, did their bit, then invaded France and took the fight all the way to Berlin.
This book also brought home the sheer bloody
chutzpah
of the British deception operations. Michael, one of the historians, ends up making a trip to
Bletchley Park
during his search for more travelers from the future. (Hilariously, he almost gets run over by
Alan Turing
on his bike.) At Bletchley, hundreds of mathematicians, cryptanalysts, crossword puzzlers, chess players, and a host of others broke the nearly unbreakable German codes and then kept the secret for years so that the Nazis wouldn't change their encryptions. And during the run up to D-Day, two massive operations involving inflatable tanks and fake planes, newspaper disinformation campaigns, and I don't know how many other plans kept Hitler and the German high command confused as to where the real invasion would be. If this had all happened in novels, no reader would believe them. It's astonishing that they actually happened.
I don't think I can say much about
All Clear
without giving away crucial plot points and completely ruining the experience for future readers. But I will say that both
Blackout
and
All Clear
deserve to win many awards and that everyone should read them: science fiction fans, thriller fans, historical fiction fans, mystery fans. Everyone should read these books. I've always through that one of the things that make stories great is an ability to transport the reader. I was transported. Last week, when I was reading, my mom called to chat and I just couldn't shut up about this book and its setting. For almost an hour. (Sorry, mom.) I can't recommend these books enough.