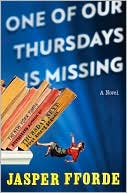 One of Thursdays
is Missing
When I learned that there was going to be another Thursday Next book, I could hardly wait for it to be published. I read the first book,
The Eyre Affair
, years ago and completely fell in love with the series. They're like nothing else I've ever read. Jasper Fforde has an impressive imagination, an encyclopedic knowledge of books and reading, and an anarchic sense of humor.
One of Our Thursdays is Missing
picks up some years after
First Among Sequels
. But instead of rejoining our heroine, Thursday Next, the protagonist is the
written
version of Thursday Next. This series is the most meta experience I've ever had as they take place partly inside the
Book World
. (On a side note, I've never laughed that hard at a map in my life.) Comedy bumps up against Human Drama. Horror borders Fantasy. And TransGenre Taxis take travelers to the Dickens Freeway or Gaiman Junction. Populated by dreaming androids, colonial explorers, characters from vanity press, hostile mimes, and a whole host of others, this was one of the most entertaining books I've read for a long time. There were times when I was laughing so hard I had to stop reading to catch my breath.
On top of the marvelous world Fforde created, there is a terrific mystery. The written Thursday is called in to investigate an accident (a book crashed into Conspiracy) and finds that there is something else going on. She then discovers that the real Thursday Next has gone missing. To save the Book World, written Thursday has to live up to her namesake. Without giving too much away, written Thursday developed unexpected grit and depth as she outwits the Men in Plaid, schemers in the Council of Genres, and the disgruntled cast of her series.
Even if the mystery wasn't as good as it is, I would recommend this book (and the rest of the series) to anyone I know who genuinely enjoys reading, who regularly fall in love with characters and settings. These books are for Readers, not just readers (if that makes any sense.) I say that because Fforde's books are full of the wild, creative joy that goes into a truly great story. As soon as I set down
One of Our Thursdays is Missing
, I wanted to pick up
The Eyre Affair
and start all over again. I don't know how Fforde does it. These books are so packed full of ideas, book jokes, and philosophy that anything I write about them never comes close to describing the experience.
All I can say is, Readers, you must read these books.