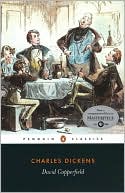 David Copperfield
Summing up Charles Dickens'
David Copperfield
is impossible. It's a whole life crammed into 877 pages. I don't mean that sarcastically or ironically. When I started reading it on last Sunday, I met Copperfield when he was born. As I read during the week, I watched him grow up. I saw his triumphs and miseries, his loves and his hatreds. I wanted to give him advice and cheer him on. When I finished the book earlier today, it was like saying goodbye to a friend.
I normally don't read
bildungsromans
, because unless the character is really interesting, I'm usually more interested in the plot. But this book--while ostensibly about David's life--is crammed with subplots. But first: David Copperfield himself. David has a sharp sense of humor (another appeal for me), and his engaging voice pulled me right into the story. As I said, we meet David as he is born. The very first part of the book is about his early life, with his sweet mother and faithful nurse, Peggotty. But things start to go wrong for David when his mother remarries. His stepfather is a horrible man who tries to mold his new family and make them "firm." The first third or so of the book is about David's trials at a terrible boarding school and then at a bottle factory. Things get so desperate that David runs away to live with his eccentric aunt. The novel then starts to jump through time, and introduces two mysteries: the fate of Little Em'ly and the schemes of Uriah Heep.
You can see the book's origins as a serial as it's very episodic. Each chapter skips along to a new event or encounter. Characters like the Micawbers, the Peggottys, Heep, the Wickfields, and David's relations weave in and out of the story. They're all fully realized people, though for the most part more attention is paid to their flaws than to their virtues. The Micawbers are a good example of this. They are very entertaining people, loyal to their friends. But for most of the book they are incapable of living within their means. I forgot how many times Mr. Micawber was arrested for his debts and of how many fits Mrs. Micawber threw about her misunderstood husband. Until the very end, when Mr. Micawber manages to get his act together and become a magistrate in Australia, every time David runs into them its pretty much the same story all over again.
Some of these supporting characters are so interesting and entertaining that they threaten to steal the show. The real attraction is supposed to be David. It's hard to say what's special about David, now that I come to think about it. At first, he was notable for his naiveté. He couldn't be trusted with any money that came into his possession, because other characters with less scruples could instantly talk him out of it. It takes a long time for David to get wise to the ways of the world. In spite of the forces against him, David stays a good man. The only people he really hates he has reason to hate. Otherwise he's upright, but foolish in love.
There is so much going on in this book that schools of English majors could cheerfully pick it apart and find new topics for centuries. You could write about how marriage is portrayed, how virtue is rewarded and vice punished, society in Victorian England, and hundreds of other topics. Each characters could probably inspire whole seminars. This is a rich book. I almost feel bad for reading it in just one week. This is a book that's meant to be savored.
One theme that reached up and grabbed my attention was the importance of choosing the right mate. There are a lot of good and bad relationships in this book. David himself has both kinds. David's childhood is essentially ruined by his mother's choosing the wrong man. David's first wife had the maturity level of a child. Little Em'ly paired up with a philanderer. Over and over again, Dickens shows his readers what happens when you either don't take the time to learn your partner's character or if you listen to the lies of someone who wants to get in your pants.
And then, towards the end, Dickens shows you what can happen if you choose wisely. Incidentally, critics often point to
David Copperfield
as highly autobiographical. So I can't help but wonder if we also get to see what Dickens valued in a wife: steadiness, wisdom, and a loving and kind spirit. After reading the Brontes and Austen, where we get the woman's perspective on courtship and marriage, it's interesting to see the male perspective. David is as giddy as one of the younger Bennett sisters when young, but it's heartening to see him mature emotionally and realize that there's more to a wife than her looks and frivolous charms.
I'm glad I read this book. Up 'till now, the only Dickens I'd read and enjoyed was
A Tale of Two Cities
--and I loved that book because of the terrific plot and the heroism of Sidney Carton.
David Copperfield
I liked for the variety. There's something new and different in each chapter, with plenty to think about afterwards.