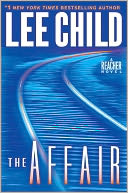 The Affair
It's weird how I sometimes end up reading books that you would think are completely different from each other, but end up being linked thematically. If I had to boil it down to one thing, I would say that Lee Child's
The Affair
is about justice. (The last book I read,
Snuff
by Terry Pratchett, also covered justice.) While this book is the 16th in the Jack Reacher series, it takes place chronologically before the first book in the series (
Killing Floor
). Interestingly, we get to meet Reacher before he's become the wandering knight errant of the later books. In this book, he's even more violent than usual. Where the main character of
Snuff
, Sam Vimes, has created very rigid rules for himself about what he will and will not do in serving the law, Reacher (at least in this book) has few qualms about serving his brand of justice.
The novel begins with Reacher being sent to a remote corner of Mississippi to not so much solve a murder, but to keep the situation under control to protect the Army. All we know at this point is that woman was found murdered near a base that house two companies of Rangers. Once he gets down there, Reacher finds out that not only is the local sheriff's office unequipped to solve murders but the sheriff herself doesn't seem all that motivated to investigate. It also becomes readily apparent that the first murder was really the third in a series. Unfortunately for Reacher, all the evidence points to a Ranger and not just any Ranger--a Senator's son.
After 16 novels, it seems to me that Reacher doesn't solve crimes based on the evidence so much as with his fearsome intellect and knowledge of human behavior. Sure, he follows the evidence because he's a good investigator. But he links the evidence with the events based on how he knows that people will react. Though Reacher is a mostly solitary character, he's been keenly observing people all his life. Granted, he seems to have observed people so that he knows how to fight people, but it works with criminal investigation just as well.
What struck me about this book was how willing Reacher was to step into the roles not only of cop, but also judge and executioner, too, even though he was still operating as a military policeman here. I know that MPs have more leeway than civilian cops, but surely there are some limits. I was very shocked at some of Reacher's actions in this book. But I think I was even more shocked that other characters let him get away with it.
After I finished the book, I ended up meditating on the question of what should someone do when criminals are, for whatever reason, beyond the reach of ordinary justice? First, no one should be untouchable. You break a law, you deserve to pay the penalty for it. But in our world, there are some people who the law just can't seem to touch: the rich, the connected, the rich
and
connected. So, if you can serve justice, should you? Religion aside, is there a higher set of ethics that we should adhere to? Reacher certainly seems to think so. He also seems curiously unafflicted with guilt about his actions, too--which is something else to ponder.
The Affair
is a surprisingly deep book. You go in expecting another adventure with Reacher, some fistfights, a little romance, and an exit into another sunset. I think that Child is growing as an author. On top of the ethical questions, Child also give you several deft and effective plot twists that keep the tension up until the end the of the book. This is one of the best books in the series.