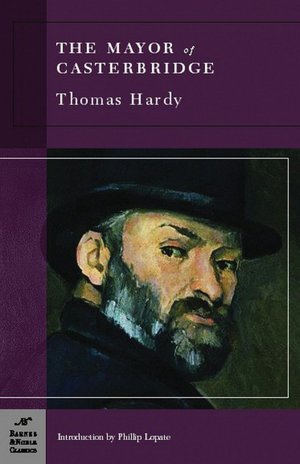 The Mayor of
Casterbridge
I followed up reading
Tess of the d'Urbervilles
with
The Mayor of Casterbridge
. It's another tragedy, but the key difference here is what the protagonist's big mistake was. You could chalk Tess's up to youth and inexperience and a certain amount of sexual harassment. But Michael Henchard--the eponymous mayor--his mistake was unforgivable and inexcusable. On top of this, he's just as prideful and stubborn as Tess was, but without a lot of justification for his arrogance.
Michael Henchard is a putz. When we meet him, he's a
drunken
putz. In a fit of spiteful humor, Henchard holds an auction for his wife and small child. As a hay-trusser, he can't really support them and, since he only married his wife because of the child (I suspect), he doesn't love them. Both Henchard and his wife are shocked when a sailor takes him up on his offer. His wife is so angry at Henchard that she actually agrees to go with the sailor.
When Henchard sobers up in the morning and realizes what he's done, he swears a vow to not drink for 21 years*. Years pass and when we see Henchard again, he's doing very well for himself. He's become a grain merchant, rich enough to own a house, and was elected mayor of Casterbridge (based on
Dorchester
). He never married (because that would be illegal) and he lives in fear that his terrible secret will come out. So when his wife, Susan, and her daughter show up in Casterbridge, you know that things are shortly going to go to hell.
Henchard tries to solve his problems by remarrying his wife, but that's about the last thing that goes right for him. I can't help but think that if he had been nicer to people, if he had been willing to take his lumps, he wouldn't have had such a tragic end. But because of his arrogance and his harsh manner, most of his stratagems backfire on him.
As I've read Hardy, I've been struck by two things about his writing style. First, the language is elevated, erudite, and full of references to other works. Yet the people he's writing about are all salt of the earth types. Only a few of the characters--mostly seen briefly--are actually rich or in the upper middle class. Most of them are farmers, day laborers, etc. It would seem absurd. But Hardy manages to pull it off without sounding like he's mocking these people and their lives. Instead, his language raises up the story.
The second thing I picked up was a certain romanticism about farm life. At times, I would swear that Hardy admires their lives and labors. He is nostalgic about pre-mechanized farming. (There are numerous disparaging references to new machines like threshers and sowers.) I would have thought that Hardy did this because he'd never done hard labor. But his
biography in Wikipedia
says otherwise. His father was a stonemason. So I have to wonder where the romanticism comes from.
Hardy's books have given me much to think about. And I'm looking forward to reading more. (Except for
Jude the Obscure
. I read a summer of that one on Wikipedia and that one looks too grim even more me.)
* You'd think if he was really serious, he would swear to never drink again. But that's Henchard for you.