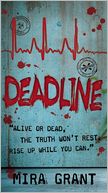 Deadline
I don't often get to say this, but I think Mira Grant's
Deadline
is even better than the first book in this trilogy. While it still has problems with repetition in the prose, it freaked me out (in a good way) more than the first book did. Don't get me wrong.
Feed
was great. I read it in one day it was so good. But
Deadline
runs with the premise set up by the first book, deepens the conspiracy, and ratchets up the terror.
The zombies in this series are the result of two man-made virus (one to cure cancer, the other to cure the common cold) combining into a terrifying new disease. All mammals are susceptible. To make things worse, the disease is mutating, evolving. At the time of the second book, they know about fifteen strains.
The beginning of the book starts about a year after the events of
Feed
. Shaun Mason is still coping with his loss and seems to have lost his taste for poking dead things with sticks--his previous passion in life. Though Shaun and his team of bloggers got the truth out, the cost appears to have broken him. So when a new conspiracy, potentially more explosive than the one from the first book, lands in his lap, it's tempting for him to think about passing it by. His sister's commitment to the truth prevents him. Almost before Shaun decides to investigate, he finds himself in them middle of a man-made outbreak of zombies and an airstrike that takes the life of one if his bloggers.
Shaun and his team spend most of the rest of the book running, crisscrossing the country to find out if what they suspect--that someone is manipulating the deadly zombie virus--is actually true. In Shaun's world, manipulating the virus and potentially making it worse, is the ultimate taboo. One of the few things that gives the living the upper hand over the dead is the fact that the virus can only transfer through fluids. If it managed to go airborne, humanity might be looking at the end of their species.
It sounds a little pale when you write it down in bald sentences, but it's a lot more gripping when you get it piece by piece as Shaun investigates. And because Grant is the kind of author willing to sacrifice characters like pawns, you never know who's going to die next. I'll admit I kept reading partly to make sure my favorites survived to the end of the book. (I'm not going to say if this worked out or not.)
There's only one book left in this trilogy, due to come out in a couple of months. I have no idea how Grant is going to escalate from the events of
Deadline
. But if the fact that Deadline is such a great read and seems to suffer from none of the middle volume doldrums, I am very excited to see what happens at last.